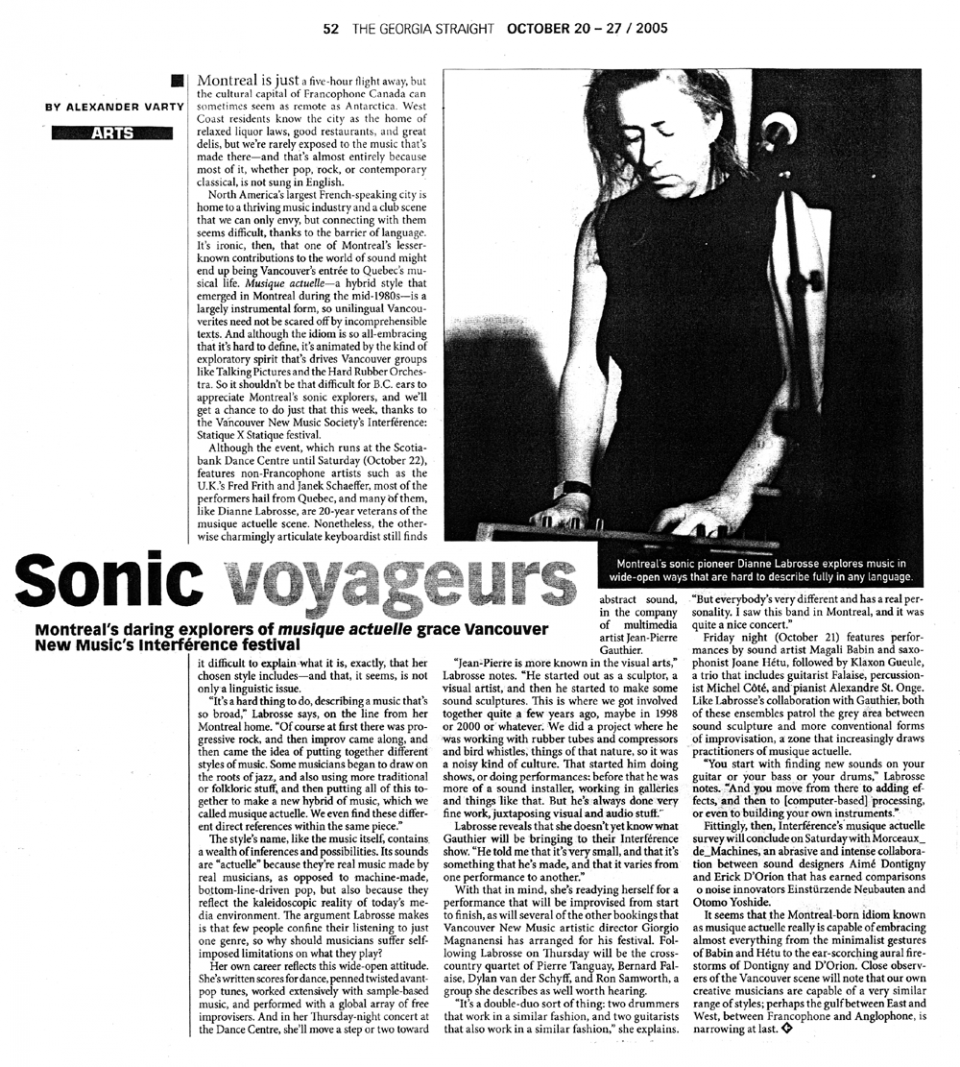 Montréal is just a five-hour flight away, but the cultural capital of Francophone Canada can sometimes seem as remote as Antarctica. West Coast residents know the city as the home of relaxed liquor laws, good restaurants, and great delis, but we're rarely exposed to the music that's made there—and that's almost entirely because most of it, whether pop, rock, or contemporary classical, is not sung in English.
North America's largest French-speaking city is home to a thriving music industry and a club scene that we can only envy, but connecting with them seems difficult, thanks to the barrier of language. It's ironic, then, that one of Montréal's lesser-known contributions to the world of sound might end up being Vancouver's entrée to Quebec's musical life. Musique actuelle—a hybrid style that emerged in Montréal during the mid-1980s—is a largely instrumental form, so unilingual Vancouverites need not be scared off by incomprehensible texts. And although the idiom is so all-embracing that it's hard to define, it's animated by the kind of exploratory spirit that's drives Vancouver groups like Talking Pictures and the Hard Rubber Orchestra. So it shouldn't be that difficult for B.C. ears to appreciate Montréal's sonic explorers, and we'll get a chance to do just that this week, thanks to the Vancouver New Music Society's Interférence: Statique X Statique festival.
Although the event, which runs at the Scotiabank Dance Centre until Saturday (October 22), features non-Francophone artists such as the U.K.'s Fred Frith and Janek Schaeffer, most of the performers hail from Quebec, and many of them, like Diane Labrosse, are 20-year veterans of the musique actuelle scene. Nonetheless, the otherwise charmingly articulate keyboardist still finds it difficult to explain what it is, exactly, that her chosen style includes—and that, it seems, is not only a linguistic issue.
"It's a hard thing to do, describing a music that's so broad," Labrosse says, on the line from her Montréal home. "Of course at first there was progressive rock, and then improv came along, and then came the idea of putting together different styles of music. Some musicians began to draw on the roots of jazz, and also using more traditional or folkloric stuff, and then putting all of this together to make a new hybrid of music, which we called musique actuelle. We even find these different direct references within the same piece."
The style's name, like the music itself, contains a wealth of inferences and possibilities. Its sounds are "actuelle" because they're real music made by real musicians, as opposed to machine-made, bottom-line-driven pop, but also because they reflect the kaleidoscopic reality of today's media environment. The argument Labrosse makes is that few people confine their listening to just one genre, so why should musicians suffer self- imposed limitations on what they play?
Her own career reflects this wide-open attitude. She's written scores for dance, penned twisted avant-pop tunes, worked extensively with sample-based music, and performed with a global array of free improvisers. And in her Thursday-night concert at the Dance Centre, she'll move a step or two toward abstract sound, in the company of multimedia artist Jean-Pierre Gauthier.
"Jean-Pierre is more known in the visual arts," Labrosse notes. "He started out as a sculptor, a visual artist, and then he started to make some sound sculptures. This is where we got involved together quite a few years ago, maybe in 1998 or 2000 or whatever. We did a project where he was working with rubber tubes and compressors and bird whistles, things of that nature, so it was a noisy kind of culture. That started him doing shows, or doing performances; before that he was more of a sound installer, working in galleries and things like that. But he's always done very fine work, juxtaposing visual and audio stuff."
Labrosse reveals that she doesn't yet know what Gauthier will be bringing to their Interférence show. "He told me that it's very small, and that it's something that he's made, and that it varies from one performance to another."
With that in mind, she's readying herself for a performance that will be improvised from start to finish, as will several of the other bookings that Vancouver New Music artistic director Giorgio Magnanensi has arranged for his festival. Following Labrosse on Thursday will be the cross-country quartet of Pierre Tanguay, Bernard Falaise, Dylan van der Schyff, and Ron Samworth, a group she describes as well worth hearing.
"It's a double-duo sort of thing: two drummers that work in a similar fashion, and two guitarists that also work in a similar fashion," she explains. "But everybody's very different and has a real personality. I saw this band in Montréal, and it was quite a nice concert."
Friday night (October 21) features performances by sound artist Magali Babin and saxophonist Joane Hétu, followed by Klaxon Gueule, a trio that includes guitarist Falaise, percussionist Michel F Côté, and pianist Alexandre St-Onge. Like Labrosse's collaboration with Gauthier, both of these ensembles patrol the grey area between sound sculpture and more conventional forms of improvisation, a zone that increasingly draws practitioners of musique actuelle.
"You start with finding new sounds on your guitar or your bass or your drums," Labrosse notes. "And you move from there to adding effects, and then to [computer-based] processing, or even to building your own instruments."
Fittingly, then, Interférence's musique actuelle survey will conclude on Saturday with Morceaux_de_Machines, an abrasive and intense collaboration between sound designers Aimé Dontigny and Érick d'Orion that has earned comparisons to noise innovators Einstürzende Neubauten and Otomo Yoshihide.
It seems that the Montréal-born idiom known as musique actuelle really is capable of embracing almost everything from the minimalist gestures of Babin and Hétu to the ear-scorching aural firestorms of Dontigny and d'Orion. Close observers of the Vancouver scene will note that our own creative musicians are capable of a very similar range of styles; perhaps the gulf between East and West, between Francophone and Anglophone, is narrowing at last.
… the Montréal-born idiom known as musique actuelle really is capable of embracing almost everything from the minimalist gestures of Babin and Hétu to the ear-scorching aural firestorms of Dontigny and d'Orion.