Mike Chamberlain,
Hour
, 12 décembre 2002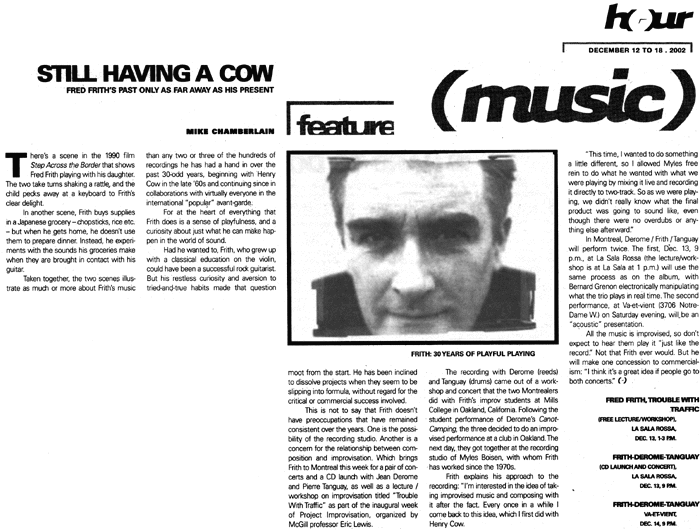 There's a scene in the 1990 film Step Across the Border that shows Fred Frith playing with his daughter. The two take turns shaking a rattle and the child pecks away at a keyboard to Frith in clear delight.
In another scene, Frith buys supplies in a Japanese grocery - chopsticks, rice, etc. - but when he gets home, he doesn't use them to prepare dinner. Instead, he experiments with the sounds his groceries make when they are brought in contact with his guitar.
Taken together, the two scenes illustrate as much or more about Frith is music than any two or three of the hundreds of recordings he has had a hand in over the past 30-odd years, beginning with Henry Cow in the late '60s and continuing since in collaborations with virtually everyone in the international "popular" avant-garde.
For at the heart of everything that Frith does is a sense of playfulness, and a curiosity about just what he can make happen in the world of sound.
Had he wanted to, Frith, who grew up with a classical education on the violin, could have been a successful rock guitarist. But his restless curiosity and aversion to tried-and-true habits made that question moot from the start. He has been inclined to dissolve projects when they seem to be slipping into formula, without regard for the critical or commercial success involved.
This is not to say that Frith doesn't have precccupations that have remained consistent over the years. One is the possibility of the recording studio. Another is a concern for the relationship between composifion and improvisation. Which brings Frith to Montréal this week for a pair of concerts and a CD launch with Jean Derome and Pierre Tanguay, as well as a lecture / workshop on improvisafion titled Trouble With Traffic as part of the inaugural week of Project Improvisation, organized by McGill professor Eric Lewis.
The recording with Derome (reeds) and Tanguay (drums) came out of a workshop and concert that the two Montréalers did with Frith's improv students at Mills Colleqe in Oakland, California. Following the student performance of Derome's Canot Camping, the three decided to do an improvised performance at a club in Oakland. The next day, they got together at the recording studio of Myles Boisen, with whom Frith has worked since the 1970s.
Frith explains his approach to the recording: "I'm interested in the idea of taking improvised music and composing with it after the fact. Every once in a while I come back to this idea, which I first did with Henry Cow.
"This time, I wanted to do something a little different, so I allowed Myles free rein to do what he wanted with what we were playing by mixing it live and recording it directly to two-track. So as we were playing, we didn't really know what the final product was going to sound iike, even though there were no overdubs or anything else afterward."
In Montréal, Derome / Frith /Tanguay will perform twice. The first, Dec. 13, 9 p.m., at La Sala Rossa (the lecture/workshop is at La Sala at l p.m.) will use the same process as on the album, with Bernard Grenon electronically manipulating what the trio plays in real time. The second 2 performance, at Va-et-vient on Saturday evening, will be an "acoustic" presentation.
All the music is improvised, so don't expect to hear them play it "just like the record." Not that Frith ever would. But he will make one concession to commercialism." I think it's a great idea if people go to both concerts."