Mike Chamberlain,
Hour
, 23 octobre 2003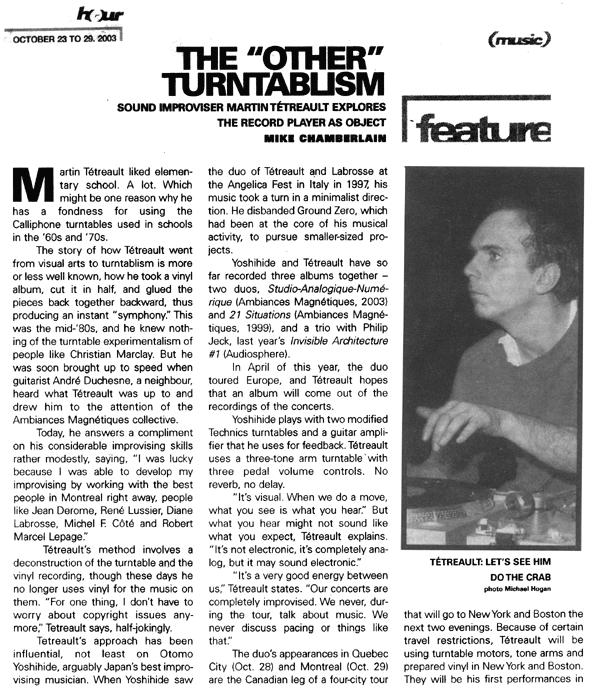 Martin Tétreault liked elementary school. A lot. Which might be one reason why he has a fondness for using the Calliphone turntables used in schools in the '60s and '70s.
The story of how Tétreault went from visual arts to turntablism is more or less well known, how he tock a vinyl album, cut it in half, and glued the pieces back together backward, thus producing an instant "symphony." This was the mid-'80s, and he knew nothing of the turntable experimentalism of people like Christian Marclay. But he was soon brought up to speed when guitarist André Duchesne, a neighbour, heard what Tétreault was up to and drew him to the attention of the Ambiances Magnétiques collective.
Today, he answers a compliment on his considerable improvising skills rather modestly, saying, "I was lucky because I was able to develop my improvising by working with the best people in Montréal right away, people like Jean Derome, René Lussier, Diane Labrosse, Michel F Côté and Robert Marcel Lepage"
Tétreault's method involves a deconstruction of the turntable and the vinyl recording, though these days he no longer uses vinyl for the music on them. "For one thing, I don't heve to worry about copyright issues anymore: Tétreault says, half jokingly.
Tétreault's approach has been influential, not least on Otomo Yoshihide, arguably Japan's best improvising musician. When Yoshihide saw the duo of Tétreault and Labrosse at the Angelica Fest in Italy in 1997, his music took a turn in a minimalist direction. He disbanded Ground Zero, which had been at the core of his musical activity, to pursue smaller-sized projects.
Yoshihide and Tétreault have so far recorded three albums together - two duos, Studio-Analogique-Numérique (Ambiances Magnétiques, 2003) and 21 situations (Ambiances Magnétiques, 1999), and a trio with Philip Jeck, last year's Invisible Architecture #1 (Audiosphere).
In April of this year, the duo toured Europe, and Tétreault hopes that an album will come out of the recordings of the concerts.
Yoshihide plays wIth two modified Technics turntables and a guitar amplifier that he uses for feedback. Tétreault uses a three-tone arm turntable with three pedal volume controls. No reverb, no delay.
"It's visual. When we do a move, what you see is what you hear." But what you hear might not sound like what you expect, Tétreault explains. "It's not electronic, it's completely analog, but it may sound electronic."
"It's a very good energy between us: Tétreault states. "Our concerts are completely improvised. We never, during the tour, talk about music. We never discuss pacing or things like that."
The duo's appearances in Québec City (Oct. 28) and Montréal (Oct. 29) are the Canadian leg of a four-city tour that will go to NewYork and Boston the next two evenings. Because of certain travel restrictions, Tétreault will be using turntable motors, tone arms and prepared vinyl in NewYork and Boston. They wili be his first performances in those cities. It will also be the first time that he will perform with those devices.
A bit of a risk, no? "These days, I like to take more risks. If I find I can make a new sound, I don't explore it, I just try it out in a concert." For Tétreault, his deconstructive experimentalism takes him back to his school days. "The turntable is usually only treated as a passive object, but there are a lot of hidden sounds it makes as an object. The sounds in the turntables were always there in the classroom".