Maria Simpson,
Hour
, 26 octobre 2000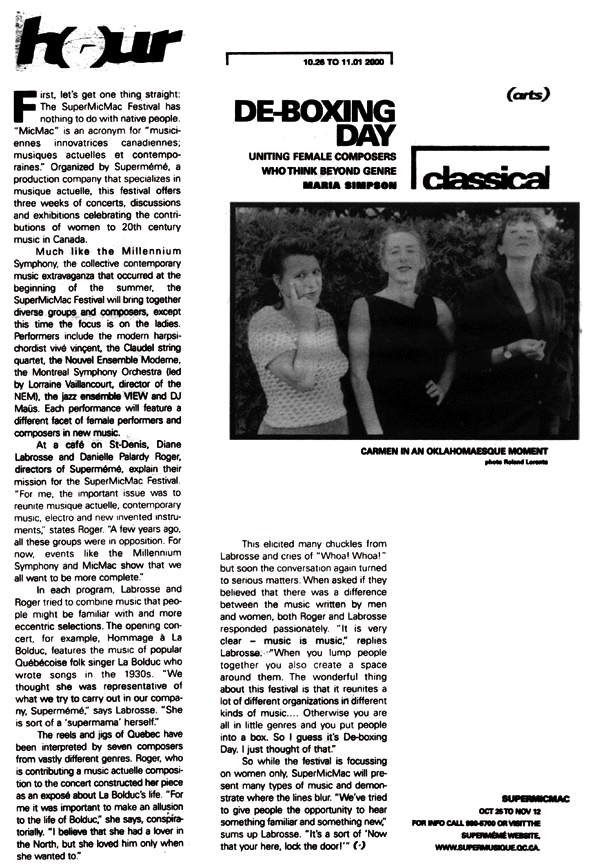 First, let's get one thing straight: The SuperMicMac Festival has nothing to do with native people. MicMac is an acronym for "musiciennes innovatrices canadiennes; musiques actuelles et contemporaines" Organized by Supermémé, a production company that specializes in musique actuelle, this festival offers three weeks of concerts, discussions and exhibations celebrating the contributions of women to 20th century music in Canada.
Much like the Millennium Symphony, the collective contemporary musk extravaganza that oocurred at the beginning of the summer, the SuperMicMac Festival will bring together diverse groups and composers, except this time the focus is on the ladies. Performers inclurde the modern harpsichordist vive' vincent, the Claudel strinq quartet, the Nouvel Ensemble Modeme, the Montréal Symphony Orchestra (led by Lorraine Vailancourt, director of the NEM), the jazz ensemble VIEW and DJ Maüs. Each performance will feature a different facet of female performers and composers in new music.
At a café on St-Denis, Diane Labrosse and Danielle Pallardy Roger, directors of Supermémé. explain their mission for the SuperMicMac Festival. "For me, the important issue was to reunite musique actuelle, contemporary music, electro and new invented instruments," states Roger. "A few years ago, all these groups were in opposition. Fot now, events like the Millennium Symphony and MicMac show that we all want to be more complete"
In each program, Labrosse and Roger tried to combine music that People might be familiar with and more excentric selections. The opening concert, for example, Hommage a La Bolduc, features the music of popular Québécoise folk singer La Bolduc who wrote songs in the 1930s. "We thought she was representative of what we try to carry out in our company, Supermémé, says Labrosse. "She is sort of a 'supermama' herself"
The reels and jigs of Québec have been interpreted by seven composers from vastly different genres. Roger, who is contributing a music actuelle composition to the concert constructed her piece as an expose about La Bolduc's life. "For me it was important to make an allusion to the life of Bolduc, she says, conspiratorially. "I believe that she had a lover in the North, but she loved him only when she wanted to."
This elicited many chuckles from Labrosse and cries of "Whoa! Whoa!" but soon the conversation again turned to serious matters. When asked if they believed that there was a difference between the music written by men and women, both Roger and Labrosse responded passionately. "It is very clear - music is music," replies Labrosse; "When you lump people together you also create a space around them. The wonderful thing about this festival is that it reunites a lot of different organizations in different kinds of music… Otherwise you are all in little genres and you put people into a box. So I guess it's De-boxing Day. I just thought of that.
So while the festival is focussing on women only, SuperMicMac will present many types of music and demonstrate where the lines blur. "We've tried to give people the opportunity to hear something famiiiar and something new' sums up Labrosse. "It's a sort of 'Now that your here, lock the door!'"