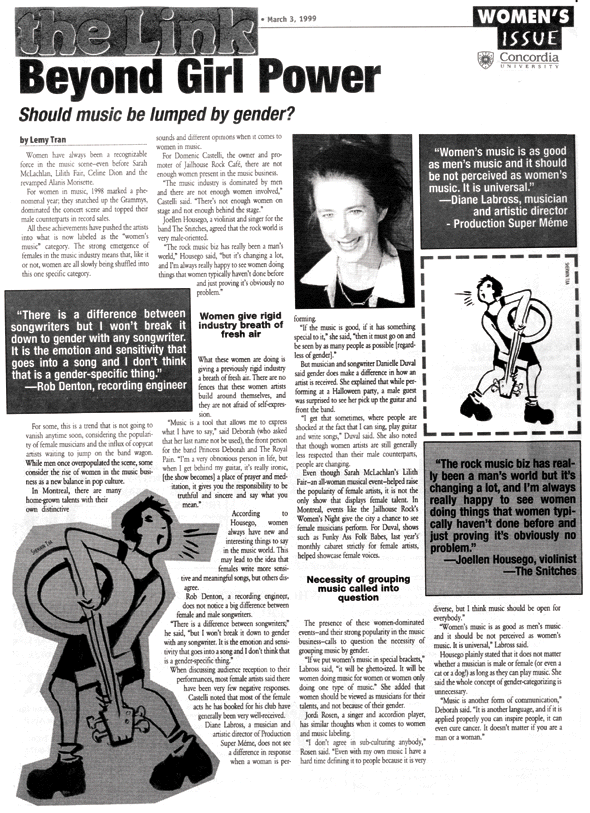 Women have always been a recognizable force in the music scene-even before Sarah McLachlan, Lilith Fair, Celine Dion and the revamped Alanis Morisette.
For women in music, 1998 marked a phenomenal year; they snatched up the Grammys, dominated the concert scene and topped their male counterparts in record sales.
All these achievements have pushed the artists into what is now labeled as the "women's music" category. The strong emergence of females in the music industry means that, like it or not, women are all slowly being shuffled into this one specific category.
For some, this is a trend that is not going to vanish anytime scon, considering the popularity of female musicians and the influx of copycat artists waiting to jump on the band wagon. While men once overpopulated the scene, some consider the rise of women in the music business as a new balance in pop culture.
In Montréal, there are many home-grown talents with their own distinctive sounds and different opinions when It comes to women m music.…
… When discussing audience reception to their performances, most female artists said there have been very few negative responses.
Castelli noted that most of the female acts he has booked for his club have generally been very well-received. Diane Labrosse, a musician and artistic director of Productions Super Mémé, does not see a diffference in response when a woman is performing.
«If the music is good, if it has something special to it," she said, then it must go on and be seen by as many people as possible [regardless of gender].»…
… Women's music is as good as men's music and it should be not perceived as women's music. It is universal," Labrosse said.
Housego plainly stated that it does not matter whether a musician is male or female (or even a cat or a dog!) as long as they can play music. She said the whole concept of gender-categorizing is unnecessary.