Mike Chamberlain,
Hour
, March 16, 2006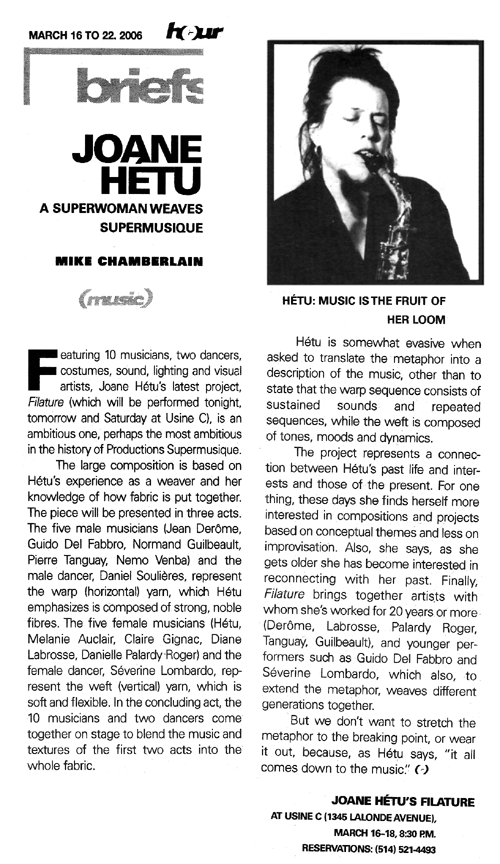 Featuring 10 musicians, two dancers, costumes, sound, lighting and visual artists, Joane Hétu's latest project, Filature (which will be performed tonight, tomorrow and Saturday at Usine C), is an ambitious one, perhaps the most ambitious in the history of Productions Supermusique.
The large composition is based on Hétu's experience as a weaver and her knowledge of how fabric is put together. The piece will be presented in three acts. The five male musicians (Jean Derome, Guido Del Fabbro, Normand Guilbeault, Pierre Tanguay, Nemo Venba) and the male dancer, Daniel Soulières, represent the warp (horizontal) yarn, which Hétu emphasizes is composed of strong, noble fibres. The five female musicians (Hétu, Mélanie Auclair, Claire Gignac, Diane Labrosse, Danielle Palardy Roger) and the female dancer, Séverine Lombardo, represent the weft (vertical) yarn, which is soft and flexible. In the concluding act, the 10 musicians and two dancers come together on stage to blend the music and textures of the first two acts into the whole fabric.
Hétu is somewhat evasive when asked to translate the metaphor into a description of the music, other than to state that the warp sequence consists of sustained sounds and repeated sequences, while the weft is composed of tones, moods and dynamics.
The project represents a connection between Hétu's past life and interests and those of the present. For one thing, these days she finds herself more interested in compositions and projects based on conceptual themes and less on improvisation. Also, she says, as she gets older she has become interested in reconnecting with her past. Finally, Filature brings together artists with whom she's worked for 20 years or more (Derome, Labrosse, Palardy Roger, Tanguay, Guilbeault), and younger performers such as Guido Del Fabbro and Séverine Lombardo, which also, to extend the metaphor, weaves different generations together.
But we don't want to stretch the metaphor to the breaking point, or wear it out, because, as Hétu says, "it all comes down to the music."