Maria Simpson,
Hour
, November 1, 2000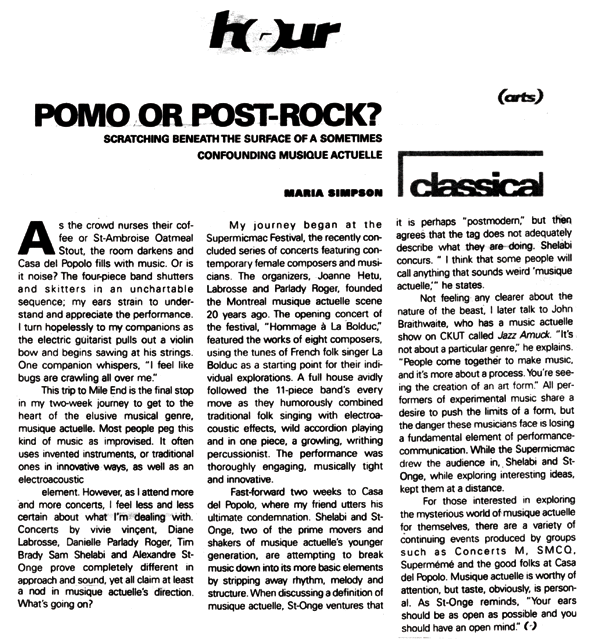 As the crowd nurses their coffee or St-Ambroise Oatmeal Stout, the room darkens and Casa del Popolo fills with music. Or is it noise? The four-piece band shutters and skitters [R an unchartable sequence; my ears strain to understand and appreciate the perfomance. I tum hopelessly to my companions as the electric guitarist pulls out a violin bow and begins sawing at his strings. One companion whispers, "I feel like bugs are crawling all over me."
This trip to Mile End is the final stop in my two-veek journey to get to the heart of the elusive musical genre, musique actuelle. Most people peg this kind of music as improvised. It often uses invented instruments, or traditional ones in innava~ve ways, as well as an electroacoustic element. Howaver, as I attend more and more concerts, I feel less and less certain about what I'm dealing with. Concerts by vivie vincent, Diane Labrosse, Danielle Parlardy Roger, Tim Brady, Sam Shelabi and Alexandre St-Onge prove completely different in approach and sound, yet all claim at least a nod in musique actuelle's direction. What's going on?
My journey began at the Supemmicmac Festival, the recently concluded series of concens featuring contemporary female composers and musicians. The organizers, Joanne Hétu, Labrosse and Parlady Roger, founded the Montréal musique actuelle scene 20 years ago. The opening concert of the festival, Hommage à La Bolduc, featured the works of eight composers, using the tunes of French folk singer La Bolduc as a staning point for their individual explorations. A full house avidly followed the 11-piece band's every move as they humorousiy combined traditional folk singing with electroacoustic effects, wild accordion playing and in one pioce, a growling, writhing percussionist. The performance was thoroughly engaging, musically tight and innovative.
Fast-forward two weeks to Casa del Popolo, where my friend utters his ultimate condemnation. Shelabi and St-Onge, two of the prime movers and shakers of musique actuelle's younger generation, are attempting to break music down into its more basic elements by stripping away rhythm, melody and structure. When discussing a definition of musique actuelle, St-Onge ventures that it is perhaps "postmodern", but then agrees that the tag does not adequately describe what they are doing. Shelabi concurs. "I think that some people will call anything that sounds weird 'musique actuelle" he states.
Not feeling- any clearer about the nature of the beast, I later talk to John Braithwaite, who has a music actuelle show on CKUT called Jazz Amuck. "It's not about a particular genre," he explains.
People come together to make music, and it's more about a process. You're seeing the creation of an an form. "All perfommers of experimental music share a desire to push the limits of a form, but the danger these musicians face is losing a fundamental element of performance-communication. While the SuperMicmac drew the audience in, Shelabi anrJ St-Onge, while exploring interesting ideas, kept them at a distance.
For those interested in exploring the mysterious world of musique actuelle for themselves, there are a variety of continuing events produced by groups such as Concerts M, SMCQ, Supermémé and the good folks at Casa del Popolo. Musique actuelle is worthy of attention, but taste, obviously, is personal. As St-Onge reminds, "Your ears should be as open as possible and you should have an open mind.