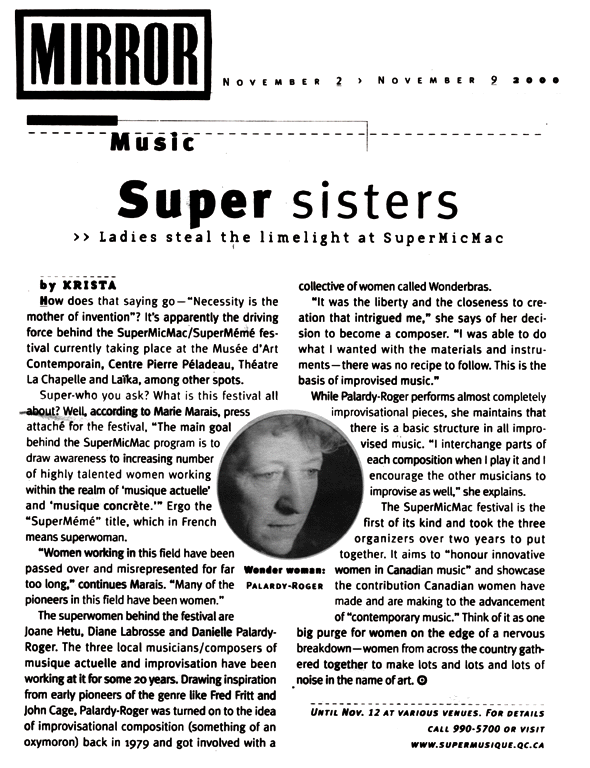 How does that saying go — "Necessity is the mother of invention"? It's apparently the driving force behind the SuperMicMac / SuperMémé festival currently taking place at the Musée d'art contemporain, Centre Pierre-Péladeau, Théâtre La Chapelle and Laïka, among other spots.
Super-who you ask? What is this festival all about? Well, according to Marie Marais, press attaché for the festival. "The main goal behind the SuperMicMac program is to draw awareness to increasing number of highly talented women working within the realm of "musique actuelle" and "musique concrète." Ergo the "SuperMémé" title, which in French means superwoman.
"Women working in this field have been passed over and misrepresented for far der' too long» continues Marais. Many of the pionners in this field have been women."
The superwomen behind the festival are Joane Hétu, Diane Labrosse and Daniel Palardy Roger. The three local musicians/composers of musique actuelle and improvisation have been working at it for some 20 years. Drawing inspiration from early pioneers of the genre like Fred Frith and John Cage, Palardy Roger was turned on to the idea of improvisational composition (something of an oxymoron) back in 1979 and got involved with a collective of women called Wonderbrass.
"It was the liberty and the closeness to creation that intrigued me," she says of her decision to become a composer. "I was able to do what I wanted with the materials and instruments — there was no recipe to follow. This is the basis of improvised music."
While Palardy Roger performs almost completely improvisational pieces, she maintains that there is a basic structure in all improvised music. "I interchange parts of each composition when I play it and I encourage the other musicians to improvise as well" she explains.
The SuperMicMac festival is the first of its kind and took the three organizers over two years to put together. It aims to "honour innovative women in Canadian music" and showcase the contribution Canadian women have made and are making to the advancement of contemporary music." Think of it as one big purge for women on the edge of a nervous breakdown — women from across the country gathered together to make lots and lots and lots of noise In the name of art.