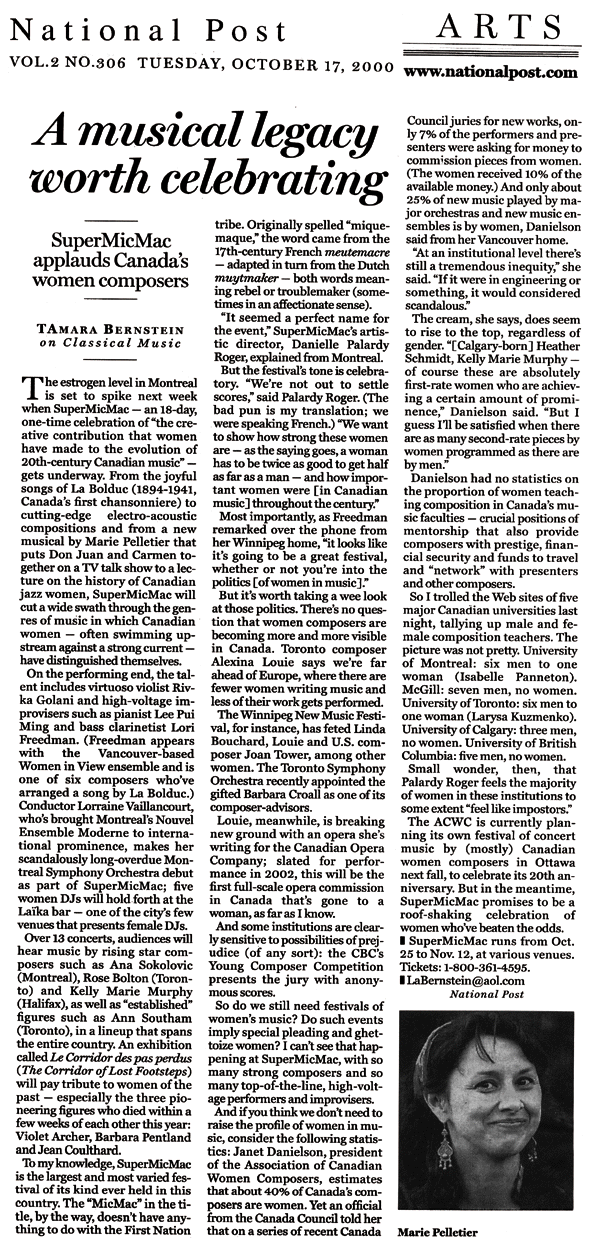 The estrogen level in Montréal is set to spike next week when SuperMicMac — an 18-day, one-time celebration of "the creative contribution that women have made to the evolution of 20th-century Canadian music" — gets underway. From the joyful songs of La Bolduc (1894-1941, Canada's first chansonnière) to cutting-edge electroacoustic compositions and from a new musical by Marie Pelletier that puts Don Juan and Carmen together on a TV talk show to a lecture on the history of Canadian jazz women, SuperMicMac will cut a wide swath through the genres of music in which Canadian women — often swimming upstream against a strong current — have distinguished themselves.
On the performing end, the talent includes virtuoso violist Rivka Golani and high-voltage improvisers such as pianist Lee Pui Ming and bass clarinetist Lori Freedman. (Freedman appears with the Vancouver-based Women in View ensemble and is one of six composers who've arranged a song by La Bolduc.) Conductor Lorraine Vaillancourt, who's brought Montréal's Nouvel Ensemble Moderne to international prominence, makes her scandalously long-overdue Montréal Symphony Orchestra debut as part of SuperMicMac; five women DJs will hold forth at the Laïka bar — one of the city's few venues that presents female DJs.
Over 13 concerts, audiences will hear music by rising star composers such as Ana Sokalovic (Montréal), Rose Bolton (Toronto) and Kelly Marie Murphy (Halifax), as well as "established figures such as Ann Southam (Toronto), in a lineup that spans the entire country. An exhibition called Le Corridor des pas perdus (The Corridor of Lost Footsteps) will pay tribute to women of the past — especially the three pioneering figures who died within a few weeks of each other this year: Violet Archer, Barbara Pentland and Jean Coulthard.
To myknowledge, SuperMicMac is the largest and most varied festival of its kind ever held in this country. The "MicMac" in the title, by the way, doesn't have anything to do with the First Nation tribe. Originally spelled "mique-maque," the word came from the 7th-century French meutemacre — adapted in turn from the Dutch muytmaker — both werds meaning rebel or troublemaker (sometimes in an affectionate sense).
"It seemed a perfect name for the event," SuperMicMac's artistic director, Danielle Palardy Roger, explained from Montréal.
But the festival's tone is celebratory. "We're not out to settle scores," said Palardy Roger. (The bad pun is my translation; we were speaking French.) "We want to show how strong these women are — as the saying goes, a woman has to be twice as good to get half as far as a man — and how important women were [in Canadian music] throughout the century."
Most importantly, as Freedman remarked over the phone from her Winnipeg home, "it looks like it's going to be a great festival, whether or not you're into the politics [of women in music3]."
But it's worth taking a wee lock at those politics. There's no question that women composers are becoming more and more visible in Canada. Toronto composer Alexina Louie says we're far ahead of Europe, where there are fewer women writing music and less of their werk gets performed.
The Winnipeg New Music Festival, for instance, has feted Linda Bouchard, Louie and U.S. composer Joan Tower, among other women. The Toronto Symphony Orchestra recently appointed the gifted Barbara Croall as one of its composer-advisors.
Louie, meanwhile, is breaking new ground with an opera she's writing for the Canadian Opera Company; slated for performance in 2002, this will be the first full-scale opera commission in Canada that's gone to a woman, as far as I know.
And some institutions are clearly sensitive to possibilities of prejudice (of any sort): the CBC's Young Composer Competition presents the jury with anonymous scores.
So do we still need festivals of women's music? Do such events imply special pleading and ghettoize women? I can't see that happening at SuperMicMac, with so many strong composers and so many top-of-the-line, high-voltage performers and improvisers.
And if you think we don't need to raise the profile of women in music, consider the following statistics: Janet Danielson, president of the Association of Canadian Women Composers, estimates that about 40% of Canada's composers are women. Yet an official from the Canada Council told her that on a series of recent Canada Council juries for new works, only 7% of the performers and presenters were asking for money to c ommission pieces from women. (The women recaived 10% of the available money.) And only about 25% of new music played by major orchestras and new music ensembles is by women, Danielson said from her Vancouver home.
"At an institutional level there's still a tremendous inequity," she said. "If it were in engineering or something, it would considered scandalous."
The cream, she says, does seem to rise to the top, regardless of gender. "[Calgary-born] Heather Schmidt, Kelly Marie Murphy — of course these are absolutely first-rate women who are achieving a certain amount of prominence," Danielson said. «But I guess I11 be satisfied when there are as many second-rate pieces by women programmed as there are by men."
Danielson had no statistics on the proportion of women teaching composition in Canada's music faculties — crucial positions of mentorship that also provide composers with prestige, financial security and funds to travel and "network" with presenters and other composers.
So I trolled the Web sites of five major Canadian universities last night, tallying up male and female composition teachers. The picture was not pretty. University of Montréal: six men to one woman (Isabelle Panneton). McGill: seven men, no women. University of Toronto: six men to one woman (Larysa Kuzmenko). University of Calgary: three men, no women. University of British Columbia: five men, no women.
Small wonder, then, that Palardy Roger feels the majority of women in these institutions to some extent "feel like impostors."
The ACWC is currently planning its own festival of concert music by (mostly) Canadian women composers in Ottawa next fall, to celebrate its 20th anniversary. But in the meantime, SuperMicMac promises to be a roof-shaking celebration of women who've beaten the odds.