Le Cabaret – Musée Juste pour rire
2111, boulevard Saint-Laurent (angle Sherbrooke)
métro Saint-Laurent + autobus 55 Nord
As part of the concerts/release parties in collaboration with DAME.
Fred Frith is back in Montréal for a concert you cannot miss, especially if you missed out on his first meeting with Danielle Palardy Roger in the spring of 2006. A great moment in the here and now, where they share and propel their individualities, breaths, and ideas. First up on stage will be Côté + Ceccarelli, two unusual musicians. Tired of the future and burned by the past, these two drummers meet and ask each other; what can we do when there's only two drummers? Being vulgar was their only answer. One thing is sure; there will be a lot of scratching and rubbing.
In the press
Fred Frith played in Montréal recently along with some very talented local free improv players. I was fortunate enough to catch the show…
Legendary avant-garde guitarist Fred Frith dropped by Montréal's Cabaret Juste Pour Rire the other night for a duo show with drummer Danielle Palardy Roger, and an opening set by two incredible percussionists - Michel F Côté and Isaiah Ceccarelli.
Côté and Ceccarelli started things off with nothing but drums. Côté was behind a standard kit extended with lots of toys and two mics rigged up two a pair of Pignose amps. Ceccarelli just had a bass drum lying on a chair along with, again, lots of toys. The pieces were all very brief which was really nice, and despite the fact that drums alone might seem limited, each piece was very different from those that came before – sound loud and frenetic, others quiet, one actually managed to elicit quite a bit of laughter from the audience, which I'm hoping was a good thing. Côté used the mics as drum sticks to great effect - creating all kinds of unusual sounds of tension and release, friction, surprisingly dynamic feedback that almost made one think of the expressiveness of the Theremin, and there were moments of all out, distorted, banging-on-a-drum fun. The feedbacking drums were paired up really well with Ceccarelli's bowed playing. A great set.
Fred Frith and Danielle Palardy Roger were up second and once they began playing, they did not stop until their set was finished — a really long and well laid-out musical journey with lots of highlights and unexpected twists and turns. Fred pulled out every trick in the prepared guitar book - from the old twanging drum stick between the strings to an array of effects and looping pedals and beyond. But with his mastery of music and his instrument it never felt like he was depending on the gimmicks, more using them to great effect to build up a complex, multilayered soundscape and every-evolving composition. He was well matched up with Danielle Palardy Roger, who also had all of the extended techniques and managed to make great music with them. They both seemed to be following their own paths the whole way not interacting too much like some free improv players do, creating a sort of back and forth conversation type of sound, but their individual paths meshed perfectly well together, so maybe they were both just following the music more than their own instrumental egos. Adding an extra oomph to the coolness of the show was when first Fred Frith let loose a barrage of percussive and wailing tribal vocals, followed a little later on by vocal sounds along similar lines from Danielle Palardy Roger. Took it to another level beyond the often staid confines of stylized free improv into something more about music in a broader and more sophisticated sense.
An awesome concert, and I think it was part of a recording project so it may see the light of day on CD in the not too distant future…
Réjean Beaucage,
Voir
, December 4, 2008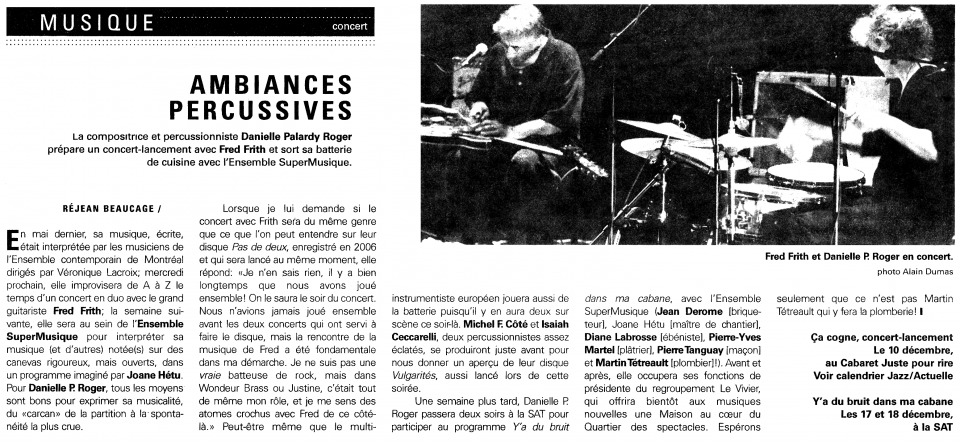 La compositrice et percussionniste Danielle Palardy Roger prépare un concert-lancement avec Fred Frith et sort sa batterie de cuisine avec l'Ensemble SuperMusique.
En mai dernier, sa musique, écrite, était interprétée par les musiciens de l'Ensemble contemporain de Montréal dirigés par Véronique Lacroix; mercredi prochain, elle improvisera de A à Z le temps d'un concert en duo avec le grand guitariste Fred Frith; la semaine suivante, elle sera au sein de l'Ensemble SuperMusique pour interpréter sa musique (et d'autres) notée(s) sur des canevas rigoureux, mais ouverts, dans un programme imaginé par Joane Hétu. Pour Danielle Palardy Roger, tous les moyens sont bons pour exprimer sa musicalité, du «carcan» de la partition à la spontanéité la plus crue.
Lorsque je lui demande si le concert avec Frith sera du même genre que ce que l'on peut entendre sur leur disque Pas de deux, enregistré en 2006 et qui sera lancé au même moment, elle répond: «Je n'en sais rien, il y a bien longtemps que nous avons joué ensemble! On le saura le soir du concert. Nous n'avions jamais joué ensemble avant les deux concerts qui ont servi à faire le disque, mais la rencontre de la musique de Fred a été fondamentale dans ma démarche. Je ne suis pas une vraie batteuse de rock, mais dans Wondeur Brass ou Justine, c'était tout de même mon rôle, et je me sens des atomes crochus avec Fred de ce côté-là». Peut-être même que le multi-instrumentiste européen jouera aussi de la batterie puisqu'il y en aura deux sur scène ce soir-là. Michel F Côté et Isaiah Ceccarelli, deux percussionnistes assez éclatés, se produiront juste avant pour nous donner un aperçu de leur disque Vulgarités, aussi lancé lors de cette soirée.
Une semaine plus tard, Danielle Palardy Roger passera deux soirs à la SAT pour participer au programme Y'a du bruit dans ma cabane, avec l'Ensemble SuperMusique (Jean Derome [briqueteur], Joane Hétu [maître de chantier], Diane Labrosse [ébéniste], Pierre-Yves Martel [plâtrier], Pierre Tanguay [maçon] et Martin Tétreault [plombier]!). Avant et après, elle occupera ses fonctions de présidente du regroupement Le Vivier, qui offrira bientôt aux musiques nouvelles une Maison au coeur du Quartier des spectacles. Espérons seulement que ce n'est pas Martin Tétreault qui y fera la plomberie!