Heathfield (England, UK),

1949

Composer • Performer (electric guitar) • Improviser
Guitarist, bassist, violinist, composer, inventor, orchestrator and do-it-yourselfer, Fred Frith is a musician whose contribution to the scene cannot be overstated. Sound material grinds, kneads, cracks and decomposes in his capable hands. Co-founder of the legendary British formation Henry Cow (1968-78), he moved to New York in the late seventies and came into contact with many of the musicians with whom he's since been associated, including John Zorn, Ikue Mori, the late Tom Cora, Bob Ostertag and many others. In the eighties Frith began to write extensively for dance, film and theatre, and this in turn led to creating music for others to play. He has appeared on more than 200 CDs and has performed all over the world: Moscow, Santiago, Tokyo, Oslo, Montréal. He was the subject of a documentary by Nicolas Humbert and Werner Penzel, Step Across the Border, and is featured in the film Touch the Sound, alongside percussionist Evelyn Glennie. Fred Frith currently teaches improvisation at Mills College in Oakland, California.
In Montréal
In the press
Fred Frith played in Montréal recently along with some very talented local free improv players. I was fortunate enough to catch the show…
Legendary avant-garde guitarist Fred Frith dropped by Montréal's Cabaret Juste Pour Rire the other night for a duo show with drummer Danielle Palardy Roger, and an opening set by two incredible percussionists - Michel F Côté and Isaiah Ceccarelli.
Côté and Ceccarelli started things off with nothing but drums. Côté was behind a standard kit extended with lots of toys and two mics rigged up two a pair of Pignose amps. Ceccarelli just had a bass drum lying on a chair along with, again, lots of toys. The pieces were all very brief which was really nice, and despite the fact that drums alone might seem limited, each piece was very different from those that came before – sound loud and frenetic, others quiet, one actually managed to elicit quite a bit of laughter from the audience, which I'm hoping was a good thing. Côté used the mics as drum sticks to great effect - creating all kinds of unusual sounds of tension and release, friction, surprisingly dynamic feedback that almost made one think of the expressiveness of the Theremin, and there were moments of all out, distorted, banging-on-a-drum fun. The feedbacking drums were paired up really well with Ceccarelli's bowed playing. A great set.
Fred Frith and Danielle Palardy Roger were up second and once they began playing, they did not stop until their set was finished — a really long and well laid-out musical journey with lots of highlights and unexpected twists and turns. Fred pulled out every trick in the prepared guitar book - from the old twanging drum stick between the strings to an array of effects and looping pedals and beyond. But with his mastery of music and his instrument it never felt like he was depending on the gimmicks, more using them to great effect to build up a complex, multilayered soundscape and every-evolving composition. He was well matched up with Danielle Palardy Roger, who also had all of the extended techniques and managed to make great music with them. They both seemed to be following their own paths the whole way not interacting too much like some free improv players do, creating a sort of back and forth conversation type of sound, but their individual paths meshed perfectly well together, so maybe they were both just following the music more than their own instrumental egos. Adding an extra oomph to the coolness of the show was when first Fred Frith let loose a barrage of percussive and wailing tribal vocals, followed a little later on by vocal sounds along similar lines from Danielle Palardy Roger. Took it to another level beyond the often staid confines of stylized free improv into something more about music in a broader and more sophisticated sense.
An awesome concert, and I think it was part of a recording project so it may see the light of day on CD in the not too distant future…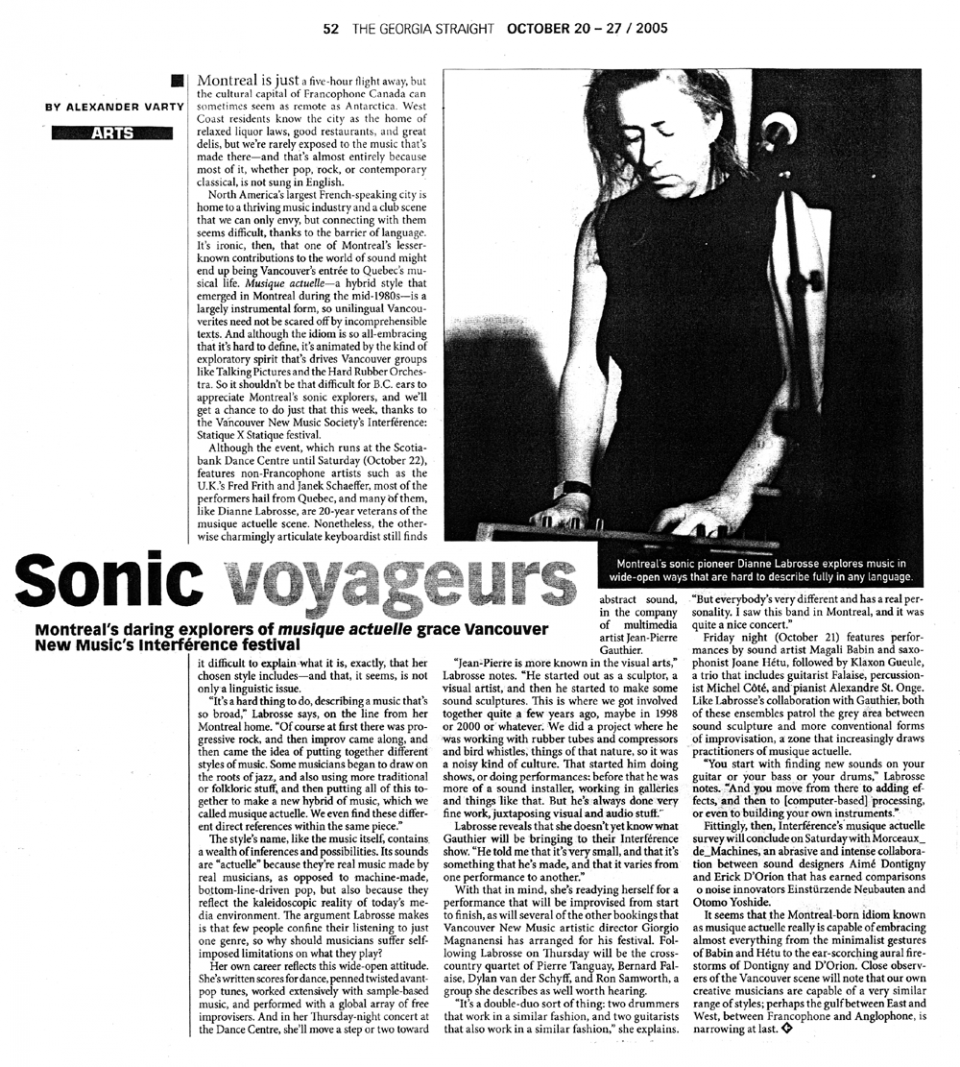 Montréal is just a five-hour flight away, but the cultural capital of Francophone Canada can sometimes seem as remote as Antarctica. West Coast residents know the city as the home of relaxed liquor laws, good restaurants, and great delis, but we're rarely exposed to the music that's made there—and that's almost entirely because most of it, whether pop, rock, or contemporary classical, is not sung in English.
North America's largest French-speaking city is home to a thriving music industry and a club scene that we can only envy, but connecting with them seems difficult, thanks to the barrier of language. It's ironic, then, that one of Montréal's lesser-known contributions to the world of sound might end up being Vancouver's entrée to Quebec's musical life. Musique actuelle—a hybrid style that emerged in Montréal during the mid-1980s—is a largely instrumental form, so unilingual Vancouverites need not be scared off by incomprehensible texts. And although the idiom is so all-embracing that it's hard to define, it's animated by the kind of exploratory spirit that's drives Vancouver groups like Talking Pictures and the Hard Rubber Orchestra. So it shouldn't be that difficult for B.C. ears to appreciate Montréal's sonic explorers, and we'll get a chance to do just that this week, thanks to the Vancouver New Music Society's Interférence: Statique X Statique festival.
Although the event, which runs at the Scotiabank Dance Centre until Saturday (October 22), features non-Francophone artists such as the U.K.'s Fred Frith and Janek Schaeffer, most of the performers hail from Quebec, and many of them, like Diane Labrosse, are 20-year veterans of the musique actuelle scene. Nonetheless, the otherwise charmingly articulate keyboardist still finds it difficult to explain what it is, exactly, that her chosen style includes—and that, it seems, is not only a linguistic issue.
"It's a hard thing to do, describing a music that's so broad," Labrosse says, on the line from her Montréal home. "Of course at first there was progressive rock, and then improv came along, and then came the idea of putting together different styles of music. Some musicians began to draw on the roots of jazz, and also using more traditional or folkloric stuff, and then putting all of this together to make a new hybrid of music, which we called musique actuelle. We even find these different direct references within the same piece."
The style's name, like the music itself, contains a wealth of inferences and possibilities. Its sounds are "actuelle" because they're real music made by real musicians, as opposed to machine-made, bottom-line-driven pop, but also because they reflect the kaleidoscopic reality of today's media environment. The argument Labrosse makes is that few people confine their listening to just one genre, so why should musicians suffer self- imposed limitations on what they play?
Her own career reflects this wide-open attitude. She's written scores for dance, penned twisted avant-pop tunes, worked extensively with sample-based music, and performed with a global array of free improvisers. And in her Thursday-night concert at the Dance Centre, she'll move a step or two toward abstract sound, in the company of multimedia artist Jean-Pierre Gauthier.
"Jean-Pierre is more known in the visual arts," Labrosse notes. "He started out as a sculptor, a visual artist, and then he started to make some sound sculptures. This is where we got involved together quite a few years ago, maybe in 1998 or 2000 or whatever. We did a project where he was working with rubber tubes and compressors and bird whistles, things of that nature, so it was a noisy kind of culture. That started him doing shows, or doing performances; before that he was more of a sound installer, working in galleries and things like that. But he's always done very fine work, juxtaposing visual and audio stuff."
Labrosse reveals that she doesn't yet know what Gauthier will be bringing to their Interférence show. "He told me that it's very small, and that it's something that he's made, and that it varies from one performance to another."
With that in mind, she's readying herself for a performance that will be improvised from start to finish, as will several of the other bookings that Vancouver New Music artistic director Giorgio Magnanensi has arranged for his festival. Following Labrosse on Thursday will be the cross-country quartet of Pierre Tanguay, Bernard Falaise, Dylan van der Schyff, and Ron Samworth, a group she describes as well worth hearing.
"It's a double-duo sort of thing: two drummers that work in a similar fashion, and two guitarists that also work in a similar fashion," she explains. "But everybody's very different and has a real personality. I saw this band in Montréal, and it was quite a nice concert."
Friday night (October 21) features performances by sound artist Magali Babin and saxophonist Joane Hétu, followed by Klaxon Gueule, a trio that includes guitarist Falaise, percussionist Michel F Côté, and pianist Alexandre St-Onge. Like Labrosse's collaboration with Gauthier, both of these ensembles patrol the grey area between sound sculpture and more conventional forms of improvisation, a zone that increasingly draws practitioners of musique actuelle.
"You start with finding new sounds on your guitar or your bass or your drums," Labrosse notes. "And you move from there to adding effects, and then to [computer-based] processing, or even to building your own instruments."
Fittingly, then, Interférence's musique actuelle survey will conclude on Saturday with Morceaux_de_Machines, an abrasive and intense collaboration between sound designers Aimé Dontigny and Érick d'Orion that has earned comparisons to noise innovators Einstürzende Neubauten and Otomo Yoshihide.
It seems that the Montréal-born idiom known as musique actuelle really is capable of embracing almost everything from the minimalist gestures of Babin and Hétu to the ear-scorching aural firestorms of Dontigny and d'Orion. Close observers of the Vancouver scene will note that our own creative musicians are capable of a very similar range of styles; perhaps the gulf between East and West, between Francophone and Anglophone, is narrowing at last.
… the Montréal-born idiom known as musique actuelle really is capable of embracing almost everything from the minimalist gestures of Babin and Hétu to the ear-scorching aural firestorms of Dontigny and d'Orion.
Réjean Beaucage,
Voir
, no. 6:10, December 12, 2002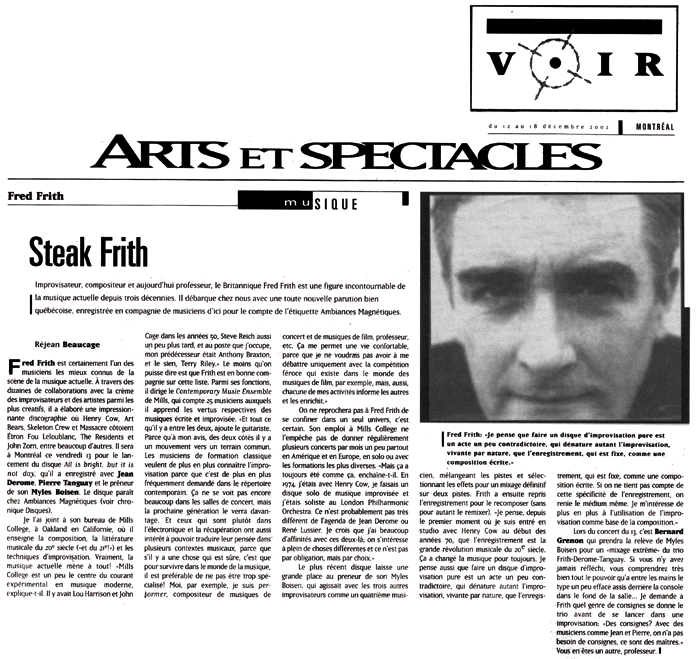 Improvisateur, compositeur et aujourd'hui professeur, le Britannique Fred Frith est une figure incontournable de la musique actuelle depuis trois décennies. Il débarque chez nous avec une toute nouvelle parution bien québécoise, enregistrée en compagnie de musiciens d'ici pour le compte de l'étiquette Ambiances Magnétiques.
Fred Frith est certainement l'un des musiciens les mieux connus de la scène de la musique actuelle. A travers des dizaines de collaborations avec la crème des improvisateurs et des artistes parmi les plus créatifs, il a élaboré une impressionnante discographie où Henry Cow, Art Bears, Skeleton Crew et Massacre côtoient Étron Fou Leloublanc, The Residents et John Zorn, entre beaucoup d'autres. Il sera à Montréal ce vendredi 13 pour le lancement du disque All is bright but it is not day; qu'il a enregistré avec Jean Derome, Plerre Tanguay et le préneur de son Myles Boilsen. Le disque paraot chez Ambiances Magnétiques (voir chronique Disques).
Je l'ai joint à son bureau de Mills College, à Oakland en Californie, où il enseigne la composition, la littérature musicale du 2Oe siècle («et du 21e!») et les techniques d'improvisation. Vraiment, la musique actuelle mène à tout! Mills College est un peu le centre du courant expérimental en musique moderne, explique-t-il. Il y avait Lou Harrison et John Cage dans les années 50, Steve Reich aussi un peu plus tard, et au poste que j'occupe, mon predécesseur était Anthony Braxton, et le sien, terry Riley.» Le moins qu'on puisse dire est que Frith est en bonne compagnie sur cette liste. Parmi ses fonctions, ii dirige le Contemporary Music ensemble de Mills, qui compte 25 musiciens auxquels il apprend ies vertus respectives des musiques écrite et improvisée. «Et tout ce qu'il y a entre les deux, ajoute le guitariste. Parce qu'à mon avis, des deux côtés il y a un mouvement vers un terrain commun. Les musiciens de formation classique veulent de plus en plus connaître l'improvisation parce que c'est de plus en plus fréquemment demandé dans le répertoire contemporain. Ça ne se voit pas encore beaucoup dans les salles de concert, mais la prochaine génération le verra davantage. Et ceux qui sont plutôt dans l'électronique et la récupération ont aussi intérêt à pouvoir traduire leur pensée dans plusieurs contextes musicaux, parce que s'il y a une chose qui est sûre, c'est que pour survivre dans le monde de la musique, il est préférable de ne pas être trop specialisé! Moi, par exemple, je suis performer, compositeur de musiques de concert et de musiques de film, professeur, etc. Ça me permet une vie confortable, parce que je ne voudrais pas avoir à me débattre uniquement avec la compétition féroce qui existe dans le monde des musiques de film, par exemple, mais, aussi, chacune de mes activites informe les autres et les enrichit.»
On ne reprochera pas à Fred Frith de se confiner dans un seul univers, c'est certain. Son emploi à Mills College ne l'empêche pas de donner régulièrement plusieurs concerts par mois un peu partout en Amérique et en Europe, en solo ou avec les formations les plus diverses. «Mais ça a toujours été comme ça, enchaîne-t-il. En 1974, j'étais avec Henry Cow, je faisais un disque solo de musique improvisée et j'étais soliste au London Philharmonic Orchestra. Ce n'est probablement pas très différent de l'agenda de Jean Derome ou René Lussier. Je crois que j'ai beaucoup d'affinités avec ces deux-là; on s'intéresse à plein de choses différentes et ce n'est pas par obligation, mais par choix.»
Le plus récent disque laisse une grande place au preneur de son Myles Boisen, qui agissait avec les trois autres improvisateurs comme un quatrième musicien, mélangeant les pistes et sélectionnant ies effets pour un mixage définitif sur deux pistes. Frith a ensuite repris l'enregistrement pour le recomposer (sans pour autant le remixer). «Je pense, depuis le premier moment où je suis entré en, studio avec Henry Cow au début des années 70, que 1'enregistrement est la grande révolution musicale du 20e siècle. Ça a changé la musique pour toujours. Je pense aussi que faire un disque d'improvisation pure est un acte un peu contradictoire, qui dénature autant l'improvisation, vivante par nature, que l'enregistrement, qui est fixe, comme une composition écrite. Si on ne tient pas compte de cette spécificité de l'enregistrement, on renie le médium même. Je m'intéresse de plus en plus à l'utilisation de l'improvisation comme base de la composition.»
Lors du concert du 13, c'est Bernard Grenon qui prendra la relève de Myles Boisen pour un «mixage extrême» du trio Frith-Derome-Tanguay. Si vous n'y avez jamais réfléchi, vous comprendrez très bien tout le pouvoir qu'a entre les mains le type un peu effacé assis derrière la console dans le fond de la salle… Je demande à Frith quel genre de consignes se donne le trio avant de se lancer dans une improvisation: «Des consignes? Avec des musiciens comme Jean et Pierre, on n'a pas besoin de consignes, ce sont des maitres.» Vous en êtes un autre, professeur.